Tonight at dinner
Michelle's
little blonde boy Korbin bought my Megan a ring out of one of those quarter machines and said "Megan will you marry me" ofcourse she said "Yes!" Megan is smart enough to realize that Korbin is quite a catch as far as 6 year old boys go. A little later while we were playing at
Amber's
house Megan asked "Korbin if he would marry her" and since they were already engaged he said "Yes!" then Michelle said Megan would you like to have a wedding and every little or big girl loves a wedding so on Sunday thier getting married your invitation is below.
Brandy and Michelle
request the pleasure of your company
at the marriage of my daughter
Megan Avery
and
Her son Korbin Daniel
On Sunday afternoon, May the seventeenth
at three o'clock
at the park at the end of the road
Please note this is a formal affair and proper attire is required.
There will be a dinner to celebrate the occasion immediately following the ceremony.
Hope to see you there. Instead of gifts please feel free to donate to our
Relay For Life Team, The All Nighter's.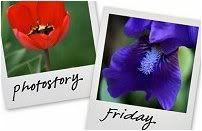 Hosted by Cecily and MamaGeek
Click to see what others are sharing.